Location
MobileHCI'06 will be arranged in Espoo, Finland. Take a a closer look at Espoo through the
web pages of Espoo
.
The conference venues are located on the Helsinki University of Technology campus area in Otaniemi. The actual conference takes place in Dipoli conference center 13.-15.9., but the tutorials, workshops, and doctoral consortium are in 3 other buildings.
Reaching Espoo by Air
Helsinki-Vantaa is the nearest airport by which You can reach Espoo. There are good flying connections to Helsinki-Vantaa from major cities around the world.
Reaching the Conference Location: Otaniemi, Espoo
The location of the Dipoli Conference Center is in Otaniemi, Espoo. From the airport, it takes around half an hour to get to Otaniemi by taxi.
Public transportation
From Helsinki city you can reach Dipoli also by the public buses. Buses 102 and 103 leave from
Kamppi Terminal
, and buses 194 and 195 from Eliel Square.
Tourist Information
If you have time to spend in Finland, there are lots of interesting things to see. You can find more information here:
Helsinki, capital of Finland, is situated right next to the conference city, Espoo. More information about Helsinki and tourist info can be found from the Helsinki city web pages (link above). To check the other events in the Capital area of Finland during the conference time, you can find information from following websites:
Relevant MobileHCI locations in Helsinki center: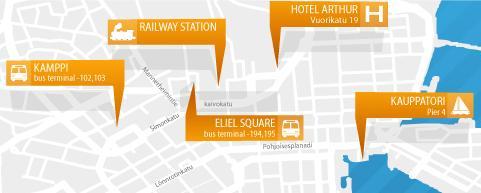 Weather in Finland